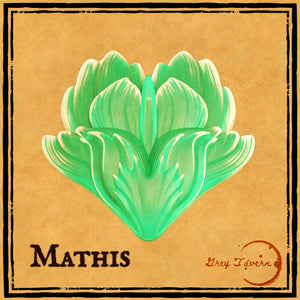 Mathis Crown Scale Details:
Pendant Size - 3.9 x 2.8 inches
Pendant Weight - 1.8 oz
King Scale- smaller than the Crown Scale. Scales ordered in addition to the Mathis Crown Scale will be Mathis King Scales

The Mathis Crown Scale: 
The Mathis Crown Scale is for the adventurer, the curious, and the healer. With Mathis's scale, the wearer obtains magics to help them survive and complete their adventures, learn from and uncover mysteries, and heal those in need.  Those with Mathis's scale often experience great struggle and are no strangers to battle. As such, being astute and agile are common traits among those that wear the Mathis scale.
The power of the scale is greatest during the month of April.
Associated Virtue:
Benevolence

Pledge of the Mathis:
To All, Our Kin: Is more obtained from a well wish or making well your wishes?
Crown Scales vs King Scales:
Crown scales, also known as Seed Scales, are powerful tools that retain the life essence of those who have gone before. They are compilations of memories, powers, and experiences that become contained within the Crown Scale. They were a gift from dragon kind  to help preserve the powers from generation to generation.
King scales are a smaller offshoots of Crown scales that are to be gifted to those of your lineage, preserving the power, memories, and experiences never to be forgotten from father to son and from mother and daughter.
Each Crown or King scale should align with the personal eminence of the wearer. It's a good idea to find a Crown scale that best aligns with your motivations, personality, and inclinations to better preserve and facilitate your own personal power within the fibers of the Crown or Seed Scale.
Scale Colors Disclaimer: 
The Mathis Crown Scale, like all other Elder Lords' scales, is delivered unpainted. This is because the colors added to the base color are unique to the Wizard or wearer. Each Wizard has taken different paths to attain Mathis's scale, so it is given to you to mark your Crown Scale in a way that reflects the powers and skills you have attained thus far.
Shipping & Returns:
These dragon artifacts are made in the United States, handmade & latex free. They will be sent within 3 business days of the order. If you have any special request or concerns, please email us and we'll do our best to help! If a refund is desired, simply send your product back to us using the return address and email us the tracking code. Once we have the code, we'll get you your money back. 

Email: Arzu@greytavern.com
Product Reviews
Take a look at what others have said about The Grey Tavern's dragon products.