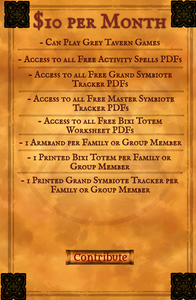 Why Contribute?
Contributions are essential for The Grey Tavern to continue creating and delivering fun, educational, and uniting adventures for families and for communities.
The Grey Tavern offers:
Fantasy adventures that encompass behavioral education and goal setting in a truly good and exciting manner

Fun, meaningful, and truly enjoyable adventure parents can do with their children
What Contributions mean for You:
The rewards listed above
We'll release more fun, family and community adventures that bring your family closer together at a faster rate

Parents will be nurtured and uplifted through family-centric adventures and behavioral education resources

More exciting, meaningful, and educational content and activities the whole family will enjoy
We ask for your patience.
Blending education on behavior, goal setting, and fantastical adventure is hair-pullingly difficult. (Yes, our heads will testify to that)
Contributions are essential for allowing us to create and deliver fantastical and educational family adventures
$10 per Month
Grey Tavern Community Adventures are not pay to play. All are welcome to participate in and enjoy them.
Activity Spell PDFs:
 Activity Spells are essential for beginning and setting what activities Bixies do that can transfer energy to their Grand Symbiotes so those creatures have enough energy to be played
Can be printed at home, but must be done with a child and parent together.
Spells should be filled out at The Grey Tavern so the Spells can be conducted correctly
Grand Symbiote Tracker:
The Grey Tavern prints out 1 free Grand Symbiote per month for every family or group member under this Contribution Path
A means for recording energy gained through activities Spells have been made for throughout a week
Essential for submitting energy numbers to The Grey Tavern so Grand Symbiotes have the appropriate energy stats for the next week
Tracker information should be submitted before Sunday each week
Master Symbiote Tracker:
Same Grand Symbiote Tracker except these track parent's creatures
Allows children to see the importance of what parents do and to see the energies their parents get from their activities
Bixi Totems:
The Grey Tavern prints out 1 free Bixi Totem per month for every family or group member under this Contribution Path
A Bixi's behavioral and personality break out as it pertains to the Bixi game
Shows a Bixi's motivations, behavioral focuses, strengths, weaknesses, how to work with others, and how others can work with them
Helps parents set goals with Bixies that align with their natural motivations
Only a Bixi's family and The Grey Tavern see these Totems. The Grey Tavern solely uses it for gameplay and story purposes.
Armband:
1 armband is given to each family or group member per month
Stamps are applied to it as record and display achievements Bixies have acquired
Used so others can identify you are playing a Grey Tavern Game