What Is A Dragon Adventure?
Dragon adventures are a fun and exciting way to collect amazing table-top RPG miniatures and get to know the dragons of the Grey Tavern that produce the beautiful scales, teeth and eggs that are sold.
How Do Dragon Adventures Work?
The Grey Tavern supplies a number of different adventures for patrons to choose from. If an Adventurer wants to participate in the adventure, they must pay the "Adventurer Type" amount. Each adventure has a "Total Needed to Complete Adventure" amount that must be reached before we are able to send out everyone's "Reward For Completing Adventure".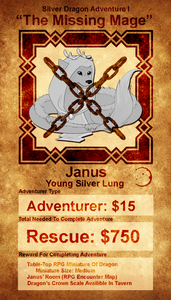 What is the "Adventurer Type"?
The adventurer type generally determines the type of reward that the adventurer will receive once the Adventure has been completed and the "Total Needed to Complete Adventure" has been reached.
So far, there are two different Adventurer Types: Adventurer & Summoner
Adventurers will receive a physical dragon miniature that will be mailed to their address.
Summoners will receive a supported and unsupported 3D model STL file of the dragon that they can use to print off a miniature with a 3D printer.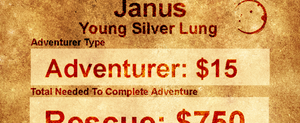 What is the "Total Needed To Complete Adventure"?
Don't worry, you do not need to pay this amount to get the rewards for completing the mission. However, this amount must be reached by all adventurers combined in order for the miniature to be created.
You can monitor the progress of the adventure by looking at the adventurer progress bar. Once this total is reached, the miniature file will be created and we will begin sending out your "Reward For Completing Adventure".

What is the "Reward For Completing Adventure"?
Each Adventures' rewards may differ slightly, but all rewards will include:
A table-top RPG miniature of the featured dragon. A small encounter map piece for use in your own table-top adventure.The featured dragon's "Crown Scale" will become available for purchase.
When Will I Receive My Adventure Reward?
The "Total Needed to Complete Adventure" goal must be reached first. Once it is reached we will begin creating a dragon miniature in the likeness of the featured dragon. This will take between 2 weeks to 1 month.
Then:
Adventurers - It will take 1 week to have the miniature manufactured. The miniature will then be shipped to the address given us when you ordered.
Summoners - It will take 1 week to have the miniature's STL files prepped. It will then be emailed in a secure folder to the email provided us when you ordered.
Restrictions & Limitations
Can I still purchase an adventure after it has been completed?
Yes, but for a short time! Even if the adventure has been completed, it will only be available to purchase until the timer runs out. Each adventure has a timer that shows how long the adventure will be available. Once the timer for an adventure has run out, whether it has been completed or not, the adventure concludes and it will no longer be available.
What if an adventure does not finish before the timer runs out?
If an adventure does not complete before the timer runs out, the adventure will have failed and all adventurers will be refunded.
Will refunds be available?
Refunds will be available through every step of the adventure.
The only exception to this is that a "Summoner" cannot receive a refund after they have received their 3D File.
If you are an "Adventurer" and you have already been sent your miniature, you will need to send the miniature back and provide a tracking number before a refund will be offered.
Can I print my files for distribution if I am a "Summoner"?
No. The 3D file you are given are for your personal use only. You may not distribute the file, or a print in any capacity beyond personal use. Distribution options will become available in the future.
Ready To Embark On A Dragon Adventure?