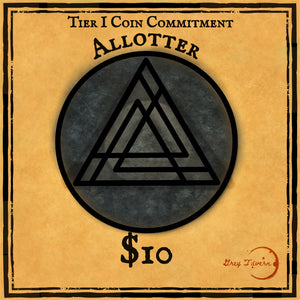 Why Participate in Order Coin Commitments
The Grey Tavern is a religious nonprofit that has many goals including gathering around and supporting children, youth, and young adults of all walks of life in their progression, helping to teach the importance of service and good will at each of the various stages of psychological development, and much more through fun and relationship- and character-building fantasy adventures.
Although a nonprofit, The Grey Tavern can only go as far as its financial backing can take it. As it is still in its prototype phase, The Grey Tavern has a goal of a financial backing of $5000 per month by July 31st. If this goal isn't reached, the viability and longevity of The Grey Tavern will be called into question.
Here's what reaching $5000 means for Coin Committers:
Order Locations can open. Each Order will have their own location to gather, develop strong, good friendships, and engage in wholesome, service-oriented activities together. For example, all Cryptids in Creation Orders will have their own location while Cryptids in a Material Order have another location. These locations will have proper safety protocols to protect minors especially.
Wholesome games for all ages can be created and at a faster pace.

Service activities for families, friends, and other groupings will be more prevalent and widespread, giving all a greater perception of all the opportunities they have to help others and to realize their power and ability to do good in the world.
Tier 1 Requirements
The Tier 1 Coin Commitment is a reoccurring monthly payment of $10 from the collective Order. 
This will fill an Order's Hovel Gate with 5 Leptons that only members of that Order are able to access to procure food, drink, and access to other items or services within the Grey Tavern or Grey Tavern locations.
Tier 1 Unlockables
Full access to all Order locations of your respective Cryptid Type.

Every member of that Order's leadership receives 2 Leptons that they can retain for themselves or distribute among others within their Order upon their Order's creation.

At the beginning of every month, 1 Lepton per leader + 1 is received. Order leaders share or distribute these to others within the Order. These Leptons can also be stored within the Order's Hovel Gate should they not be spent by the end of that month.
Hovel Gate Restrictions
Withdrawals from an Order's Hovel Gate cannot exceed 20 Leptons per week.
You may upgrade the Tier of your Hovel Gate (differs from the Coin Commitment Tier which is what this page describes) to increase your withdrawal amount per week. Contact a Grey Tavern representative to increase your Hovel Gate Tier.
Warning
Leptons are treated as real coin within The Grey Tavern. Taking Leptons that have not been paid for by donation from the Grey Tavern is considered stealing.